Your Spray-On Truck Bed Liner Questions Answered + How LINE-X Differs
Picture this: You've just bought the truck of your dreams. It's shiny, it's powerful, it's everything you've ever wanted in a vehicle. But there's just one problem - the bed is unprotected, and you know it's only a matter of time before it gets scratched, dinged, and damaged beyond repair. You're not sure what type of bed liner is right for you, but you know you need one — and fast.
Maybe you've tried drop-in liners before, and they didn't meet your expectations. Maybe you're looking for a spray-on liner but don't know which brand to choose. Or perhaps you're thinking about applying a different spray-in liner yourself as a DIY solution. Whatever your situation, you're not alone. As a truck owner, you want to protect your investment and keep your vehicle looking great for years. But with so many bed liner options out there, it can be overwhelming to figure out which one is right for you. That's where we come in — in this blog, we'll explore the pros and cons of different bed liner options, so you can make an informed decision and protect your truck the right way.
Are Bed Liners Bad for Trucks?
You might be asking this question if you've had a bad experience with drop-in bed liners. One common concern with truck bed liners is that they can trap moisture and lead to rust and corrosion. This is generally a problem with lower-quality bed liners, such as drop-in liners that can gape and crack, allowing water to become trapped in the truck bed without proper ventilation. This problem can also develop in roll-on and spray-on applications if done incorrectly. On the other hand, high-quality bed liners, such as LINE-X spray-on bed liners, have been specifically designed to prevent moisture buildup and actually protect against rust and corrosion.
Are Spray-On Bed Liners Worth It?
Spray-on bed liners are popular among truck owners due to their durability and long-lasting protection. While they may be more expensive than other types of bed liners, the added protection they provide can be well worth the investment. Additionally, spray-on bed liners are custom-fit to your specific truck, ensuring a perfect fit and maximum protection.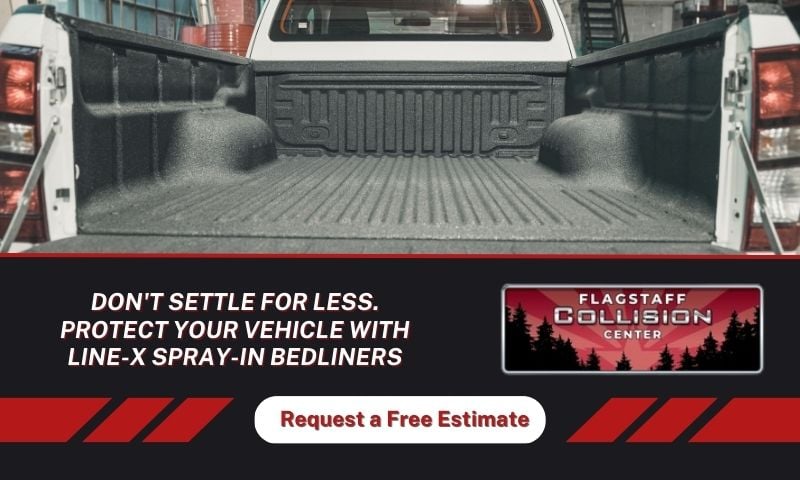 Are DIY Spray-In Bed Liners Good?
When it comes to installing a bed liner on your truck, you may be tempted to take the DIY route to save some money. However, it's important to consider the time, space, and tools required for this type of project. While DIY bed liner kits can be a good option for those who have experience with this type of work and the proper equipment, it's recommended to have a professional install a spray-on bed liner.
One of the main reasons to consider a professional installation is the potential for subpar results with a DIY kit. If the surface of the truck bed is not properly prepared before application, the bed liner may not bond properly, leading to peeling and chipping. Additionally, the durability of a DIY bed liner may not compare to that of a professionally installed bed liner, leaving your truck vulnerable to damage in the long run.
Uneven coverage or thin spots can occur from improper spraying techniques or inadequate product application. Or even worse, you could end up with overspray if the rest of the truck is not covered correctly during the application. These mistakes can be costly and time-consuming to fix, so choosing a reputable company with trained professionals to apply your spray-on bed liner is crucial.
Another important consideration is the time and space required for the application process. Applying spray-on bed liner kits evenly in your driveway or garage can be challenging. As a result, it can be almost impossible to avoid creating thin spots or missing small areas on your truck bed. This job requires a dedicated space free from wind, debris, and other contaminants that could impact the quality of the application. Additionally, the application process can take several hours, which can be difficult for those without the necessary time and patience to complete the job correctly.
Applying a spray-on bed liner is not a beginner-level DIY task. The process requires specialized equipment and knowledge to properly apply the liner, which is why it's recommended to leave this job to the professionals. By opting for a professional installation, you can ensure your truck is protected and the job is done correctly.
Is It Better to Spray Bed Liner or Roll It On?
When it comes to applying bed liner, there are two main methods: spraying and rolling. While rolling can be a cheaper option, it often results in a less consistent application and may not provide the same level of protection as spraying.
It's important to keep in mind that not all bed line formulas, whether roll-on or spray-on, are created equal. Each product has specific application instructions that must be followed carefully for optimal results. While some may prefer the DIY route, it's still best to consult with the product's manufacturer instructions and consider going with a professional trained in your preferred method of application and protective product.
Can I Spray Bed Liner Without Sanding?
Spraying on a bed liner without sanding the surface first is not recommended. Sanding allows for proper adhesion of the bed liner and ensures it will properly bond to the truck's bed. Skipping this step or not doing a thorough job can lead to a poor bond and ultimately lead to peeling and chipping.
Trust the LINE-X Process & Professional Application by Flagstaff Collision Center
Protecting your truck bed is an investment, and you want to make sure you choose the best option to keep your truck in excellent condition. Opting for LINE-X spray-on bed liner applied by the trained professionals at Flagstaff Collision Center is a smart decision. The unique formula of LINE-X is known for its durability and protection against scratches and dents. Additionally, LINE-X is UV resistant, preventing fading or chalking over time. With a wide range of color options, including custom colors, you can also add a personal touch and style to your vehicle.
DIY application may seem like a cost-effective solution, but it's easy to make mistakes that can damage your truck and be expensive to fix. By choosing a professional LINE-X application, you'll avoid these mistakes and get the best result in the shortest amount of time. With thorough prep work, specialized equipment, and expert knowledge, the professional installers at Flagstaff Collision Center will ensure a strong bond and long-lasting protection for your truck bed.
Don't take the risk of a DIY job; invest in the best protection for your truck bed with LINE-X and the professional installation from Flagstaff Collision Center. Request a quote today.
Our LINE-X reviews speak for themselves. Check them out here.