Flagstaff Auto Paint Repair Services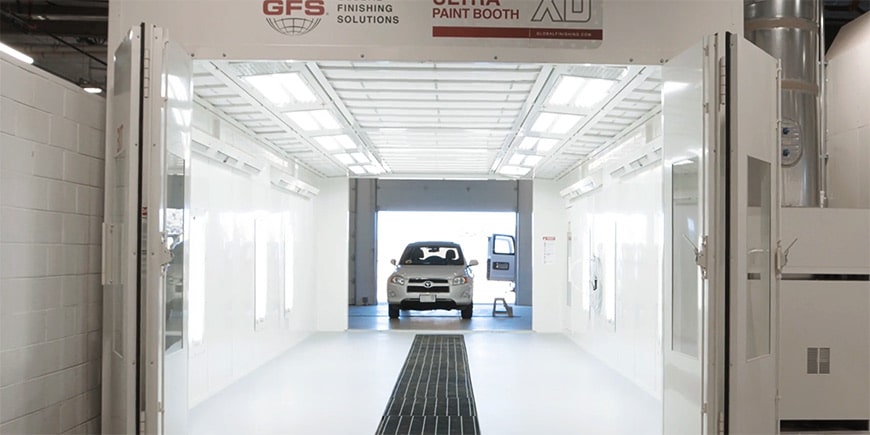 Remember when you could see your own reflection in that new car paint shine? When your vehicle's paint is fading, flaking, cracked, or scratched, it may be all you think about when you look at it and then those old memories come back to you. But those scars and blemishes aren't just nagging aesthetic problems. Restoring your vehicle with a professional paint repair service is vital to extending its life by protecting it from rust damage, and failing paint may also reveal other unseen issues.
From Small to Large Car Paint Jobs, We Have You Covered
Whether your vehicle has a single scratch or extensive fading from the Northern Arizona sun, our collision repair shop will make it look brand new. We offer every vehicle paint repair service from small touch ups to full paint jobs to striping. Our shop features Ultra Paint Booth XL for trucks and other large vehicles. We use top-of-the-line water basecoats (PPG Envirobase paint), followed by a urethane clear coat, making our process better for the environment than many alternatives. We also repair and refinish a wide range of vehicles, including trailers.
When Does a Vehicle Need Auto Body Paint Repair Services?
If you want the best quality auto paint job, it's always best to hire a professional company rather than doing it yourself or hiring an amateur. Accidents and deformities easily occur during amateur paint applications, and they can be very expensive to fix. A collision repair shop with skilled, ASE-certified technicians offers the highest quality of work due to experience and professional-grade equipment.
When a vehicle's paint is damaged, it leaves the vehicle vulnerable. The shiny paint on your automobile forms a protective layer designed to protect the body from the elements and rust. Over time, rust can bore holes through the body and compromise the structural integrity of the vehicle, potentially rendering it unsafe to drive and requiring expensive auto body repair services to fix. It's ideal to repair the paint as soon damage has occurred.
Some common reasons for vehicle paint repair include:
Chips:

Paint chip repair is necessary to replace the flecks of paint that rocks or other impacts can dislodge.
Sun Damage:

The sun's UV rays weaken paint over time and cause it to erode, exposing the metal frame and allowing rust to gain a foothold.
Storms:

Arizona has some intense storms and blowing debris can damage your automobile's paint.
Doors:

When someone else opens their door into yours it can leave an unsightly scar.
Car Accident:

Your vehicle will need new paint after an accident, even if it's a small one. Once you obtain auto body repair services, further inspection might reveal more damage that initially went undetected.
We Match Car Paint Perfectly
Choosing the right color and type of paint is critical. Our professional and certified car paint repair technicians will match your paint correctly, mix it properly, and successfully apply it, so there are no defects or imperfections. Our expert mixing equipment with PPG paints allows us to perfectly match every color and apply it smoothly over the damaged areas.
Your Auto Paint Repair Company in Flagstaff, AZ
When you want to turn your vehicle into a masterpiece, get in touch with Flagstaff Collision Center. Our owner and operator, Michael Whittemore, has been in the collision industry for more than 35 years. He previously founded a collision center that ranked among Inc. 5000's fastest-growing companies in North America. Today he brings the same passion that helped him build a successful business to his customers across Northern Arizona.
At Flagstaff Collision Center, we bring dedication to our craft and professionalism to every customer we serve. With our proven expertise, meticulous attention to detail, and state-of-the-art equipment, we restore your vehicle's paint to like-new factory condition. Contact us today for a free estimate.

Get a Free Auto Body Repair Estimate
We make restoring your vehicle to pre-accident condition convenient by providing repair estimate online. Request a free estimate today!