LINE-X TRUCK ACCESSORIES FOR FLAGSTAFF AND NORTHERN ARIZONA
LINE-X doesn't only make the world's most powerful spray-on bedliner — it also produces high-quality LINE-X truck accessories, including truck mods and hard-to-find parts. Your truck is important to you, and you should complement it with the most robust accessories available on the market today.
For more than 25 years, LINE-X has been a global leader in protective coating services. Best known for market-leading spray-on truck bedliners, LINE-X's passion and innovative mindset led them to expand the product line to offer not just groundbreaking automotive coatings, but also unique, rugged truck mods and truck accessories. We are proud to offer the LINE-X range of coatings and truck accessories to our valued customers.

We Install LINE-X Truck Accessories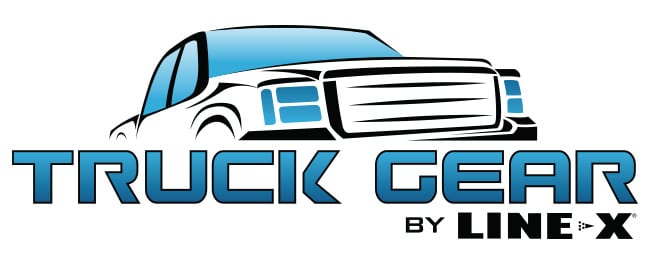 All of the LINE-X truck accessories in Flagstaff and Northern Arizona we install are top-of-the-line, heavy-duty gear designed to withstand the toughest work or play you can throw at them. LINE-X developed these products based on what their customers wanted. They're built to be rewarding, convenient, and practical, designed with the same top-quality standards as their world-famous spray-on bedliners.
If they weren't of the highest quality, they wouldn't be offering them… and neither would we.
Retractable RS Tonneau Cover
This all-new cover offers personal customization above your tonneau cover, and the rail system provides secure protection with the ability to carry more than 500 pounds of gear, coolers, bikes, storage baskets, carriers, and even roof-top tents, if you so choose. These covers allow you to optimize cargo capacity either open or closed, with a patented low-profile design that features a front cover flush with the truck bed. This design streamlines the overall appearance and gives you a firm, dependable, watertight seal to keep the truck bed dry.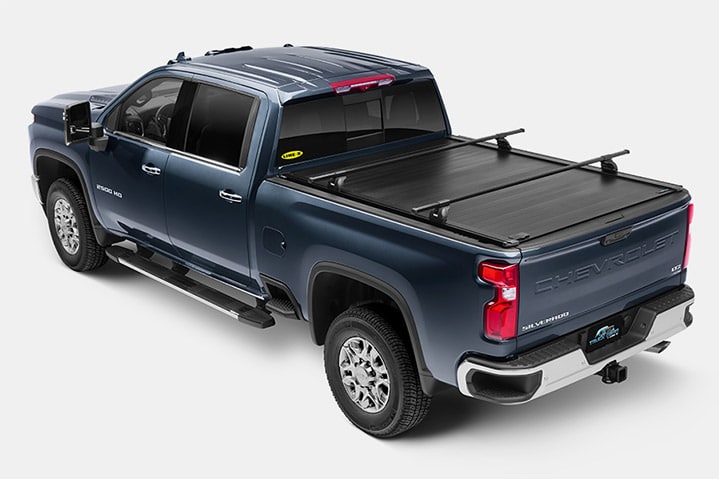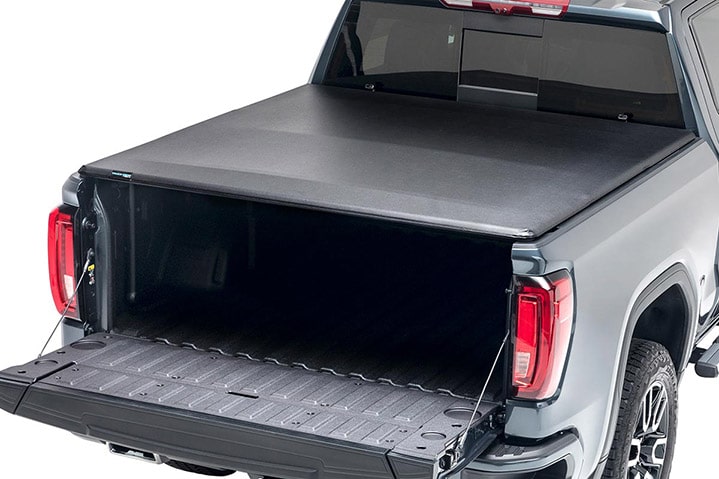 This cover has a unique latch design with a convenient single-turn release knob so you can easily open the cover with one hand to access the truck bed. It's affordable and lightweight, with incredible ease of use you'll find refreshing, but it still features heavy-duty, tear-resistant fabric and sturdy, lightweight framework that's rugged and durable.
This hard roll-up cover is dirt-resistant and pressure bound to heavy-duty black aluminum slats, with a high-quality matte-finish fabric that will keep looking clean whether you're at work or at play. It also features multiple rows of latches for extra security to keep out unwanted intruders, with a low-profile rail design for a sleek, flush-mounted appearance on your truck.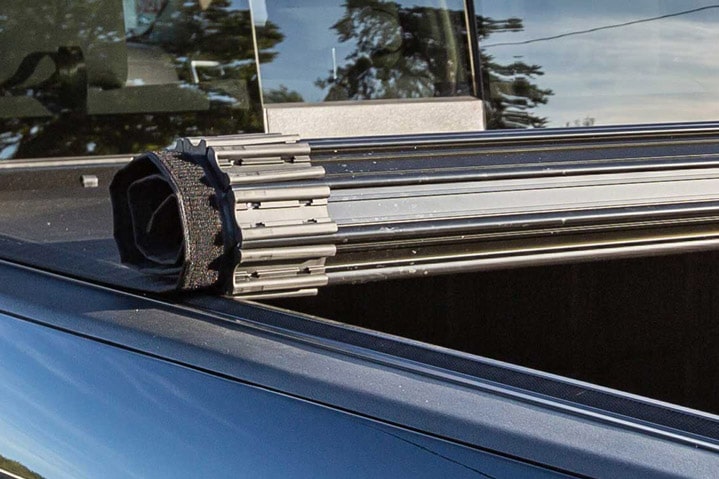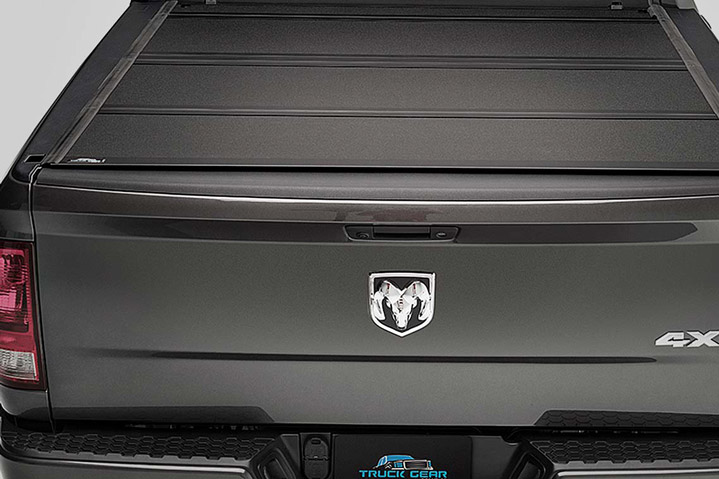 LXP Hard Folding Tonneau Cover
Heavy-duty folding panels with reinforced LINE-X coating provide this cover with extreme damage resistance, with UV stability that won't fade over time, even in our powerful Arizona sunlight. This option offers the highest durability level available and is virtually impervious to dings, dents, and scratches, with a sleek, low-profile design.
Deluxe Roll-up Tonneau Cover
If you're looking for a roll-up cover that looks great, installs in mere minutes, and has simple functionality, this is the choice for you. Easily remove the cover without tools, thanks to the quick-release system. Periodic manual adjustments aren't necessary, thanks to the automatic tension adjusters. Add value to your truck with this low-profile roll-up cover.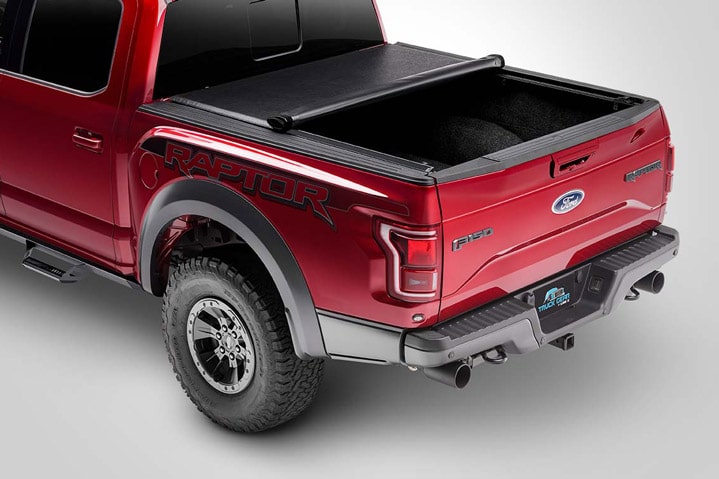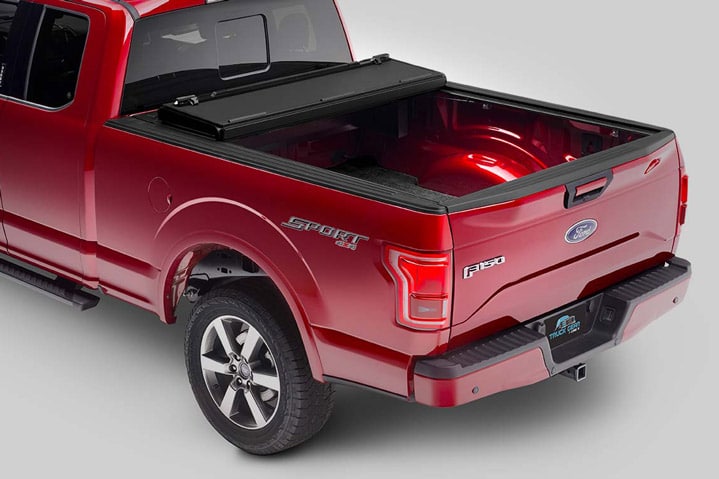 Stealth Hard Folding Tonneau Cover
The modern design of this cover gives your truck very attractive styling, and the solid panels with a flush-mounted, low-profile design are barely visible above the bed of your truck for extra visibility. These light-weight yet heavy-duty aluminum panels are dent- and scratch-resistant. They feature a UV-resistant black matte finish, and to maximize utility, the cover has three locking positions for third brake light visibility.
Retractable Hard Tonneau Cover
The durable finish on this retractable cover adds style and dependability to everything you do, with an ability to support more than 500 pounds. This incredible stability makes it one of the strongest on the market today. It rolls fully into a canister residing at the front of the bed, so you still have full access to your gear, and its unique spiral track system keeps it from contacting itself during retraction.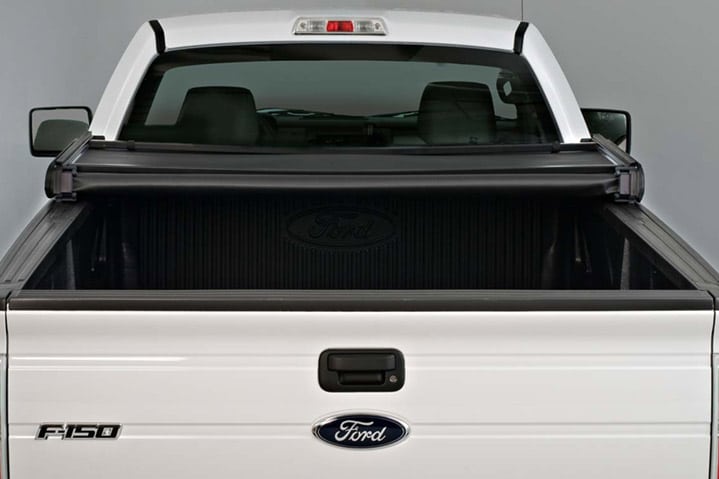 Soft Tri-fold Tonneau Cover
This fully assembled cover is ready to mount right out of the box and features a unique clamp closure system. It's so strong that you can drive with it folded open, so it's the perfect solution for hauling oversized loads. It is custom-made for each installation, cuts vehicle drag for better gas mileage, and protects your bed/cargo from the elements.
Give your passengers a "leg up" with this fully welded, one-piece, cold-rolled steel drop step, offering an aggressive look and functionality you can rely on every time. It has a 3" diameter main tube made of .084" wall steel tubing, with a bolt-on design, five-year coating warranty, lifetime craftsmanship warranty, and it's made in the USA.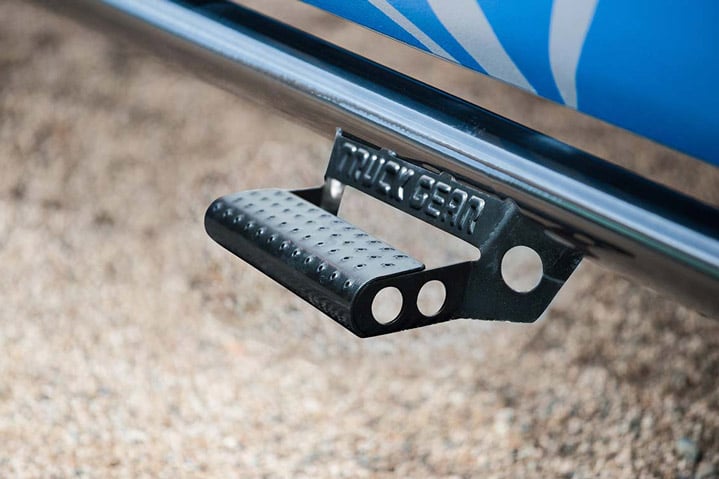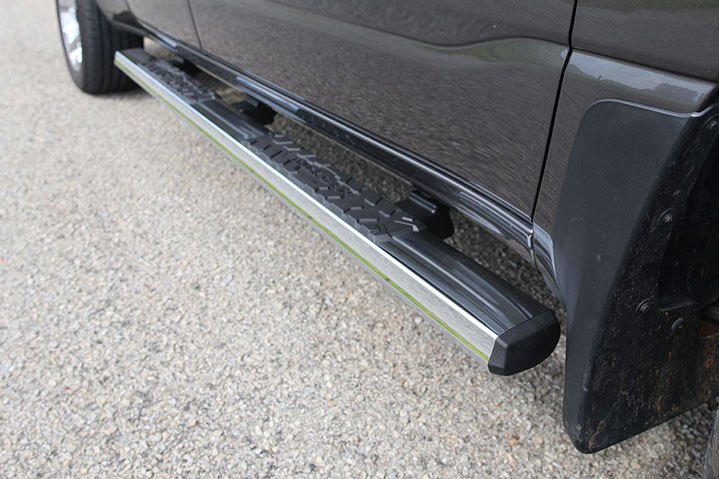 These step bars are the ultimate in value and durability, built from military-grade aluminum. This quality construction provides you with excellent weather protection, strength, and corrosion resistance to last many years. Instead of the usual oval shape, the trapezoid design is modern and attractive to give your truck some real style. You can get these in either black coat or chrome plating, and the rubber step pad gives you a solid grip in even the harshest conditions.
These premium step bars fit most trucks and SUVs, are built from high-quality polished stainless-steel tubing, welded end caps, and come in either a straight design or with 30-degree bent ends. They feature five-inch step pads and no-drill installation because of their bolt-on brackets that come vehicle-specific. The quality T304 stainless steel tubing makes these step bars a long-term solution for your footing needs.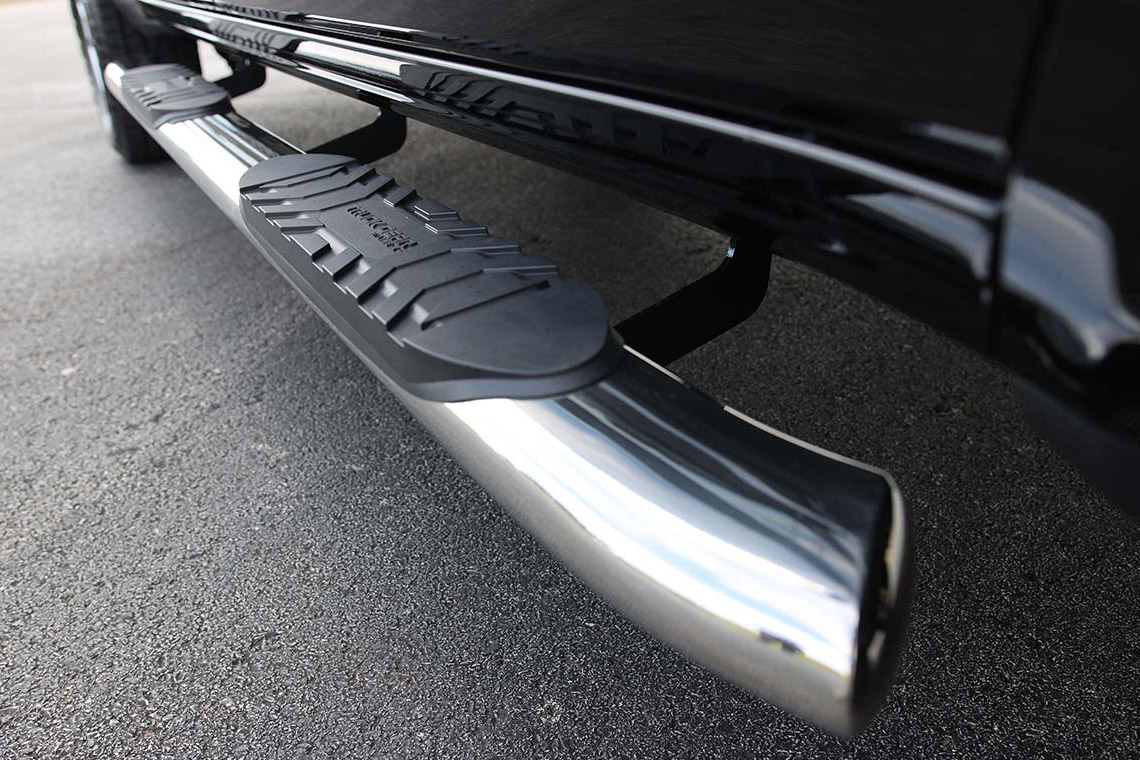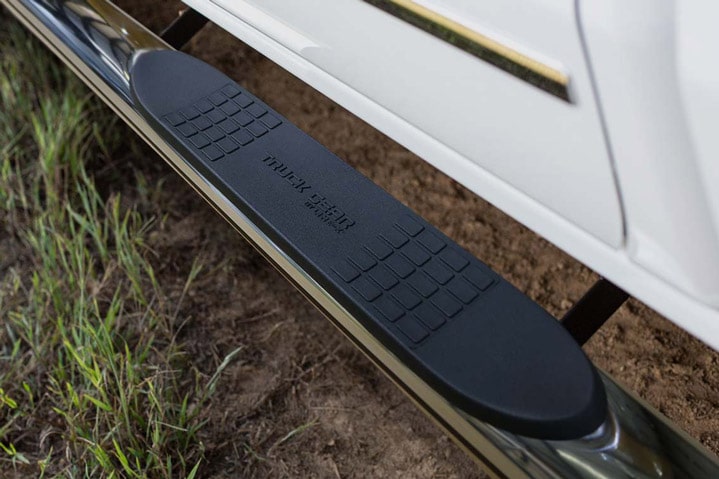 These are made with the same durable construction techniques as the five-inch step bars, manufactured from high-quality T304 stainless steel tubing. They come in either a straight design or with 30-degree bent ends as a "premium" option. The sleek, sturdy design comes with four-inch polyethylene step pads, a stainless-steel finish, and an end-to-end lifetime warranty.
This durable cooler features rubberized tires and a telescoping handle to easily haul a fully-loaded cooler anywhere you go. Its large wheels roll over pretty much anything, including rocks and sand, and its unique axle supports most of the weight so you're not just dragging it along. It comes in 45- and 60-quart sizes and is built to take a beating, with heavy-duty construction backed up by a lifetime warranty.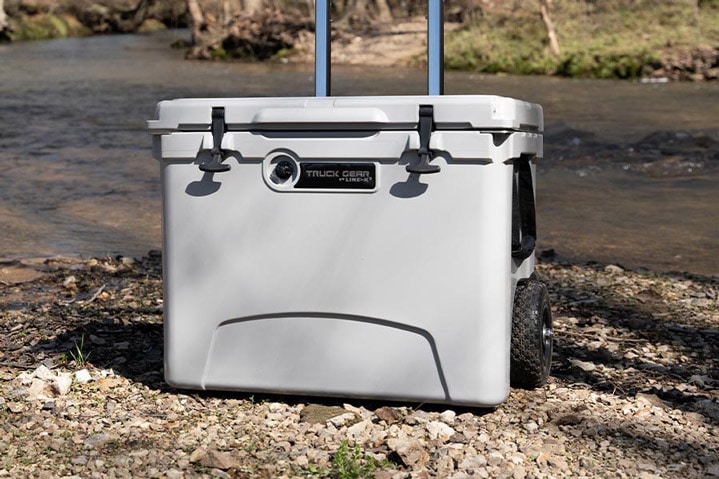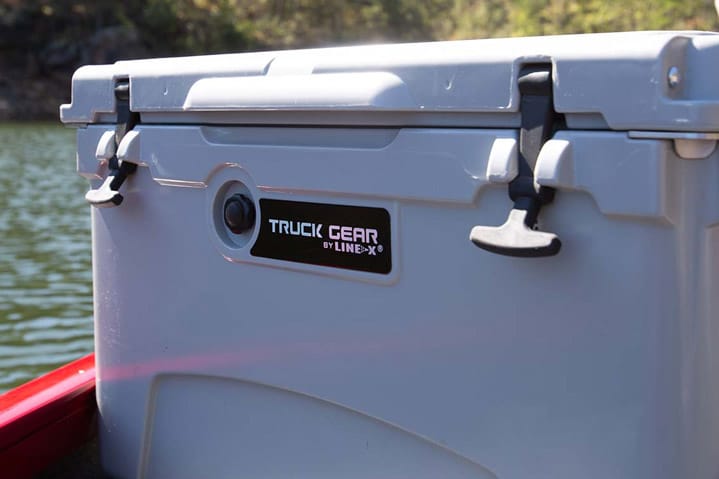 This bad boy is designed to last a lifetime. Its rotationally-molded plastic will keep ice frozen and food or drinks cold while absorbing unrelenting abuse. The extra dense insulation makes it a great choice for a fishing, hunting, or camping trip, tailgating at your favorite sporting event, or having a blast at whatever fun adventure you throw at it. It's available in 20, 45, 75, and 110-quart sizes.
The LINE-X rubberized floor liner provides an exact fit to the contour of your truck floor. Its unique channel pattern helps whisk away snow, mud, and dirt to keep you clean, and it's comfortable for both feet and pet paws, with raised nibs that hold it in place and provide a self-sealing floor covering to prevent moisture from seeping through.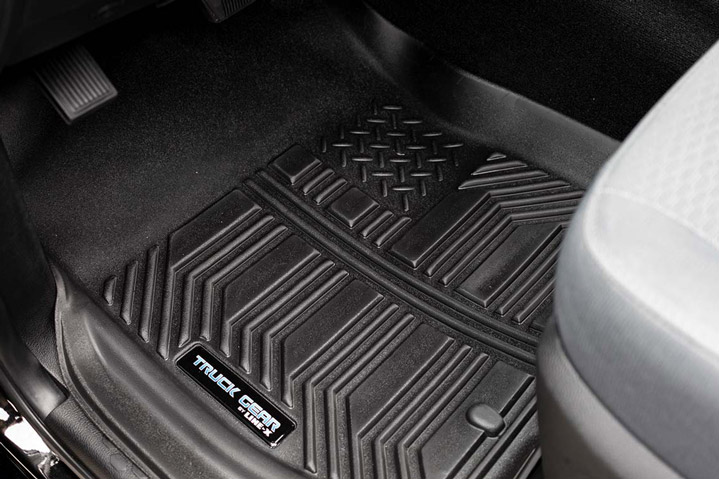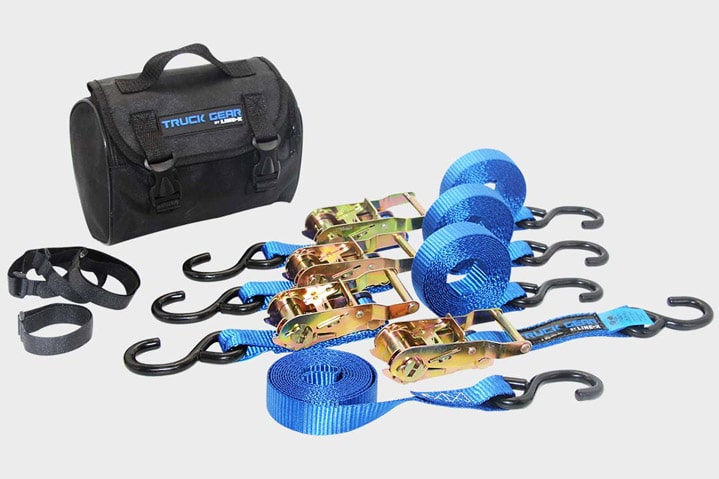 You can forget about those flimsy bungee cords. These heavy-duty ratcheting tie-downs are made to withstand a massive 3,000-pound load. These aren't discount, light-duty tie-down straps… far from it. The kit includes a canvas carry bag and four ratcheting tie-downs in 1"x10" or 1"x20" sizes with rubber-coated S hooks and four Velcro storage loops.
This toolbox is made from rust-resistant diamond aluminum, making it as tough as the tools you carry. It features heavy-duty pull handles and lock cylinders on both sides, so you don't have to walk all the way around your truck to grab your tools. Meanwhile, the gas-charged lid supports will easily hold the lid open for extra convenience. This toolbox is available in low profile or standard style, and comes in natural or black finishes.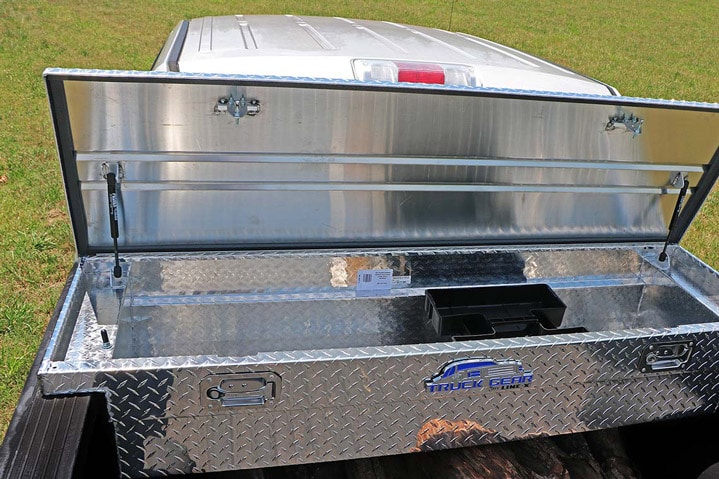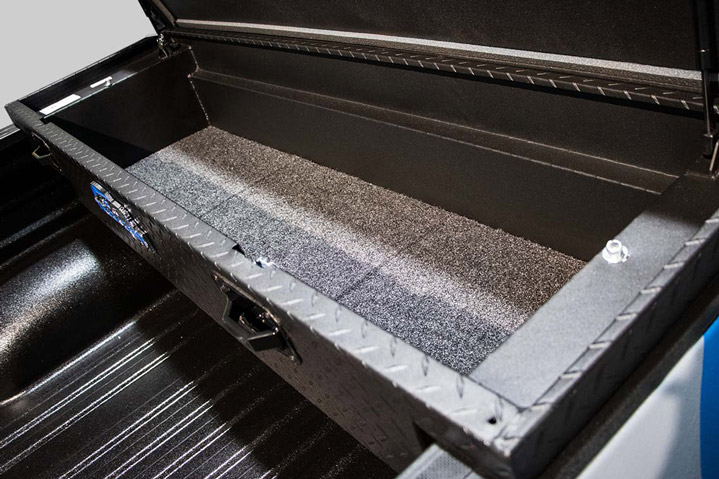 This convenient toolbox liner keeps all your tools in place while preventing damage to your truck bed. The liner is made from water-resistant, durable material designed to ward off mold and mildew from rain or snow. It's specifically designed for the Crossover Toolbox to protect your expensive tools and will not retain water so you don't have to worry about rust.
Jump Starter and Power Bank
This compact, portable battery charger delivers up to 600 maximum amps to start large engines (including diesel), with dual USB ports for mobile devices. It's easier, cleaner, smaller, and faster than jumper cables and prevents the inconvenient need for a second vehicle. This kit includes 12V DC and 110V AC charging cables, iPhone/Android charging cables, built-in flashlight, carrying case, and fail-safe system that won't arc on you for extra protection.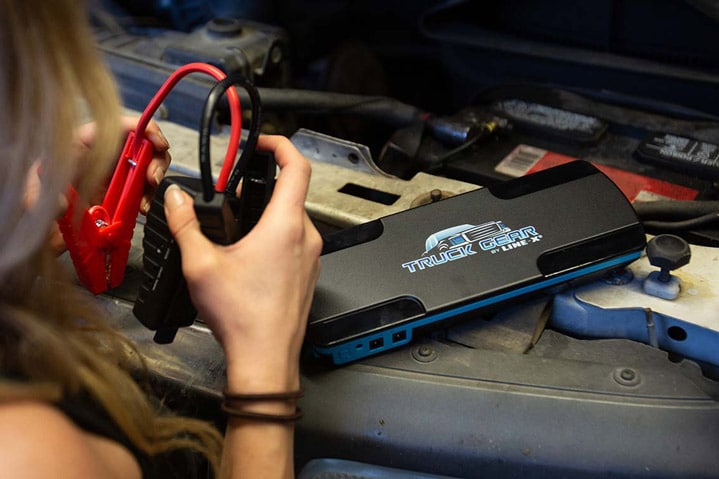 Truck Gear Lifetime End-to-End Warranty
The select Truck Gear by LINE-X products mentioned here offer lifetime end-to-end warranties that cover the accessories no matter where you live, so if you have a problem, you can return the product for replacement at no cost to you. A typical manufacturer's warranty only covers the cost to replace an accessory, but the unbeatable Truck Gear Lifetime End-to-End Warranty not only covers the accessory, but also the reinstallation of your replacement part. That's why we say it's unbeatable!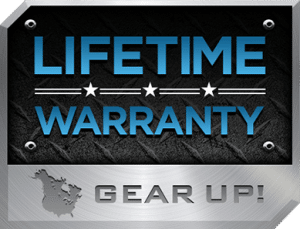 Installations For LINE-X Truck Accessories In Flagstaff And Northern Arizona
With more than 35 years of experience in the collision repair business, we are recommended by all major insurance companies and are proud to be the premier auto body collision repair shop in Northern Arizona. We're now offering LINE-X truck accessories because they meet the standards of high performance and quality that our customers expect and deserve. Combined with our professional installation services, we are delighted to offer these truck accessories in Flagstaff and Northern Arizona. You can count on us to meet the standard of quality service, integrity, and professionalism you've come to expect from our ASE-certified technicians.
Accreditations, Certifications & Accolades