Flagstaff Collision Repair Services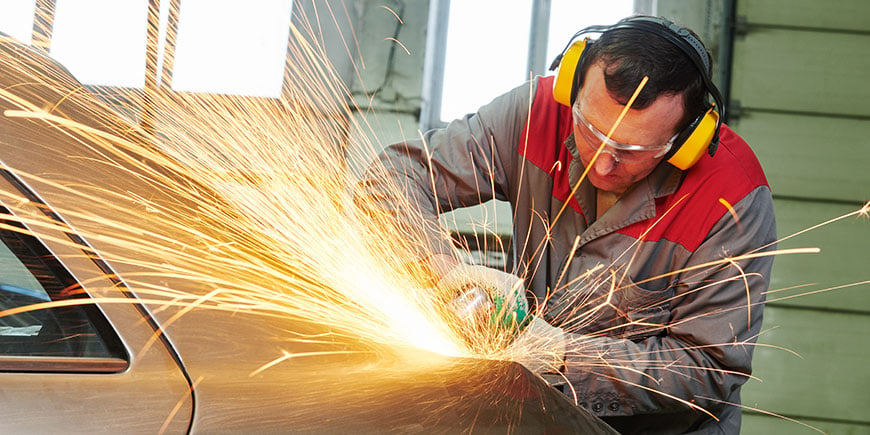 When you've been involved in an automobile accident, it's important to handle your auto repairs quickly in order to maintain the structural integrity and safety of your vehicle. If your vehicle has experienced major damage, you may be wondering whether it's more cost-effective to buy a new one or just repair the damage. Knowing the different types of collision damage and expected costs can help you make the most informed decision.
Types of Collision Damage
Vehicles can experience a wide range of damages from a collision. Here are some of the most common types:
Bumpers:

They are designed to absorb shock energy during an accident, which helps to minimize damage occurring to other areas of the vehicle. This is why bumpers are frequently damaged in auto accidents, because they are often the first thing to receive an impact.
Fenders:

These are attached to the side of the auto body across the wheel assembly. While they are made from extremely durable materials, enough force in a side-impact collision will result in damage.
Headlights:

They are frequently one of the first parts to receive contact in a front-end collision because they cover the edges of the front end of the vehicle. The damage can vary from scratches to shattered plastic, in which case they would need to be replaced.
Wheels:

Since wheels are located on all four corners of a vehicle, it makes sense that they're commonly damaged in accidents. An impaired wheel can lead to a tire blowout, so it should be checked out by a professional as soon as possible.
Car grilles:

Located at the front of the car, grilles are most frequently damaged in front-end collisions, especially if the driver fails to swerve away from the impact.
Windshield:

The windshield can chip, crack, or break altogether in an accident. In most cases, it isn't safe to drive with a cracked or broken windshield, so motorists should have their vehicle towed to a collision repair shop right away.
How Much Does Collision Repair Cost?
The cost of collision repair depends on the extent of the damage, the make and model of the vehicle, your location, and other factors. If you work with an auto body shop you will need to pay for both parts and labor. Here are some average costs for common repairs:
Front bumper: $300-$1,500
Rear bumper: $300-$1,500
Fender: $500-$1,500
Windshield: $250-$1,000
Headlight assembly: $250-700
Car grille: $140-$3,200
Door damage: $50-$1,000
Paint damage: $500-$7,500
As you can see, these costs vary widely. The best way to determine your actual cost is to obtain a free estimate.
When you work with our collision repair shop, you can expect us to bring that same level of commitment and passion to provide you with quality auto body repair services at competitive rates. Whether your vehicle requires simple dent removal or more extensive body work, you can trust that our skilled ASE and OEM certified technicians will get the job done quickly and professionally. For more seriously damaged vehicles, we use top-of-the-line collision repair equipment including OEM-certified Car-O-Liner, as well as Hunter HawkEye Elite alignment and collision avoidance realignment systems.

Your Auto Collision Repair Shop in Flagstaff, AZ
Flagstaff Collision Center is owned and operated by Michael Whittemore, who has been involved in the collision business for more than 35 years. With an unparalleled dedication to excellence, he previously established a top collision center that was named one of America's fastest-growing companies in Inc. 5000.
Ugly dents, scratches, and other damage can detract from the overall appearance of your vehicle and your enjoyment of driving it. At Flagstaff Collision Center, our goal is to ensure that every car, truck, van, SUV, or trailer we work on leaves our lot looking as good as new. If a collision has left your vehicle looking less than its best, give us a call today to schedule a free estimate.

Get a Free Auto Body Repair Estimate
We make restoring your vehicle to pre-accident condition convenient by providing repair estimate online. Request a free estimate today!