If you own a truck, you know how important it is to protect the truck bed. Even though drop-in and Speedliner bedliners are common, they may offer less protection or flexibility than a spray-in bedliner. We'll look at seven reasons why spray-in bedliners are better than other options and why Line-X is the best way to protect your truck. Plus, we'll answer some common questions so you can feel good about your decision to invest in quality spray-in bedliners for your vehicles. Let's jump right in!
What is a Spray-In Bedliner?
Spray-in bedliners are protective coatings that are applied to the bed of your truck with a high-pressure spray gun. The bedliner is made from a mix of polyurethane and polyurea, which makes it strong and long-lasting. Spray-in bedliners protect against dents, scratches, and weather damage better than other bedliners. Applied by a trained professional, the application process starts with covering and masking the body of your truck to keep it safe, then sanding and cleaning the truck bed, priming it, spraying it with the coating, and then letting it cure. Once your new truck bed liner has cured to about 80% your vehicle is released back to you and is ready for light duty. We recommend waiting at least 24 hours after pickup before you haul rocks or other heavy items with your truck.
Spray-In Bedliner isn't just for Truck Beds: Creative Ways to Use Spray-In Bedliner on Other Parts of Your Vehicles
Are you looking to add something unique to your vehicle? Spray-in bedliners like Line-X can be used on other parts of your vehicle besides the bed truck. For example, Line-X can be put on rocker panels, fender flares, grille guards, and more to protect them from debris, scratches, and other dangers. Some truck owners have even covered the whole vehicle in Line-X, which gives it a unique and rugged look. But it doesn't stop with truck owners. People have brought in golf carts, tractors, and ATVs to do a full-body spray job. This creates a flat or matte paint tone that gives off a dark aesthetic. So, if you're looking for that rugged dark look for your vehicle, using a spray-in bedliner will do the trick.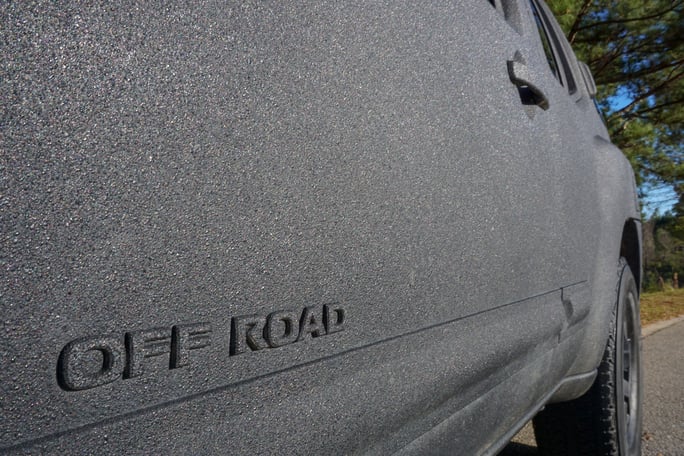 What's better: a drop-in bedliner or a spray-in bedliner?
A drop-in bedliner and a spray-in bedliner are different in a number of ways. First, a spray-in bedliner fits your truck bed perfectly so it won't move or rattle like a drop-in liner. A spray-in liner also makes a smooth, non-slip surface that is safer to walk on and better protects against scratches, dents, rust, and moisture buildup. On the other hand, Drop-in bedliners tend to warp, crack, and have even been known to come unhinged only to end up debris on the side of the road.
If you're thinking about investing in a spray-in bedliner, here are the top 7 benefits that you can expect after installation:
The Top 7 Benefits of Line-X Spray-In Bedliners
Custom Fit:

Fits the curves and contours of your truck bed, ensuring the best protection from water, heat, dirt, and other damage.

Safe Surface:

Creates a non-slip surface that is safer to walk on than metal or drop-in alternatives.




Maintenance-Free and Easy to Clean

Less Noise:

Enjoy the ride without the noise. Spray-in bedliners cut down road noise and rattling in the truck bed, making the ride quieter.

Protects against rust, corrosion, and UV damage/fading

Value Retention:

Keeps your truck's value longer and protects it from wear and tear.

Covers Cosmetic Issues:

Want your truck to look like new again? By spraying on a bedliner, you can cover up cosmetic issues like dents and scratches.
What is the toughest spray-in bedliner?
While Speedliner claims to be the toughest spray-in bedliner, Line-X was able to outperform other brands. With durability, Line-X underwent a tensile strength test measuring how much force it could withstand before breaking. Between Line-X and other spray-on bedliners, the Line-X standard was able to handle a pressure of 2147 PSI as opposed to other bedliners that can withstand 1700-1900 PSI. Tear strength for a Line-X standard is 490 lbs/in whereas other bedliners are between 140-150 lbs/in. A long-lasting spray-on bedliner like Line-X can work well with your truck if you're looking for durability.
Is the Raptor liner any good?
The Raptor liner is a popular spray-on bedliner that protects your truck bed. Even though the coating is durable, it often needs more maintenance. Researching and comparing different brands is the best way to determine which spray-in bedliner is best for your truck.
Check out our post comparing leading spray-on bed liners like Line-X, Raptor, and Rhino Linings.
How much should a spray-in bedliner cost?
The cost of a spray-in bedliner can vary depending on the brand, the type of truck, the product's quality, the location of where it's being installed, how it's installed, and the level of customization. This includes adding extra features such as UV protection, a color change, or deciding how much coverage you want. All these can add up to higher costs, but keep in mind that a spray-in bedliner can last up to the lifetime of your vehicle and be well worth the investment. In fact, depending on the strength of the formula you choose (we recommend Line-X), you may not have to worry about re-coating, doing it yourself, or other maintenance costs that otherwise could add up over time. Ultimately, the main goal of a spray-in bedliner is to protect your truck from outside elements such as dents, scrapes, rust, and more.
Are you ready to protect your truck with Line-X spray-in bedliners? Contact us for more information or request a free quote.
Is a spray-in bedliner worth the money?
The short answer is yes, a spray-in bedliner is worth every penny. A spray-in bedliner not only protects your truck bed from scratches, dents, and corrosion but also gives your truck a customized look that stands out on the road with various colors and finishes to choose from. Spray-in bedliners can also be coated on boats, motorcycles, trailers and other vehicles, making it accessible for any use.
Read the reviews to see how satisfied our customers are with their LINE-X products, and view the before and after!
Protect Your Vehicle with Northern Arizona's Official LINE-X Installer
If you want to protect your truck, LINE-X is a great choice for a dependable, high-quality spray-in bedliner. At Flagstaff Collision Center, we are Northern Arizona's official LINE-X installer, providing premium bedliners and solutions for every budget and truck. With LINE-X, you can be confident that your vehicle receives superior protection.

Don't settle for less. Contact us today or visit our website to learn more about our LINE-X products and solutions to elevate the look and durability of your vehicle!