5 Ways to Remove a Dent From Your Car After An Accident or a Collision
Car accidents or collisions can be a frustrating and overwhelming experience, especially when you are dealing with damage to your vehicle. One common issue that many drivers face after the impact is dents on the body of their car. Dents can be unsightly and can also affect the value of your vehicle if left unrepaired.
Understanding Different Types of Vehicle Dents
It's also important to note that there are different types of vehicle dents, and each one requires a different approach:
Paintless Dent Repair (PDR)

is a method of removing dents by manipulating the metal from behind the dent, using specialized tools. This method is suitable for small and medium-sized dents that haven't damaged the paint.

Traditional Dent Repair

is a method of using body filler and paint to repair the dent. This method is suitable for large dents that have damaged the surface area.

Crease Repair

is a method of removing a crease-shaped dent. This method is suitable for dents that are long and deep but not very wide.
DIY Methods for Attempting to Remove Car Dents:
Removing dents from your car whether it's from a truck, SUV, or a sedan can be a tricky task and attempting to do it with DIY methods can potentially cause more damage to your vehicle. Here are some methods that you might have heard of, but it's important to know why they shouldn't be used:
Plunger:

While using a plunger may seem like a simple solution, the suction from the plunger can potentially damage the paint job on your car, rather than fixing the dent.

Vacuum cleaner and a bucket of water:

This method may seem like it would create a vacuum to pull out the dent but, like the plunger method, it can actually damage the paint and paneling on your car.

Hair dryer and a bucket of water:

Heating the metal on your car to expand it and remove the dent can cause warping or other damage to the metal.

Can of compressed air:

Creating pressure on the dent with compressed air can cause further damage to the paint and paneling of the car, and may not even remove the dent.

Plunger and boiling water:

Using boiling water can cause damage to the paint and paneling, and using a plunger is not likely to be effective.
Keep in mind that it is always best to leave auto body repairs to certified professionals who have the proper tools and knowledge to remove the dent safely and effectively. It may cost more money but it is worth it in the end to avoid causing more damage to your vehicle.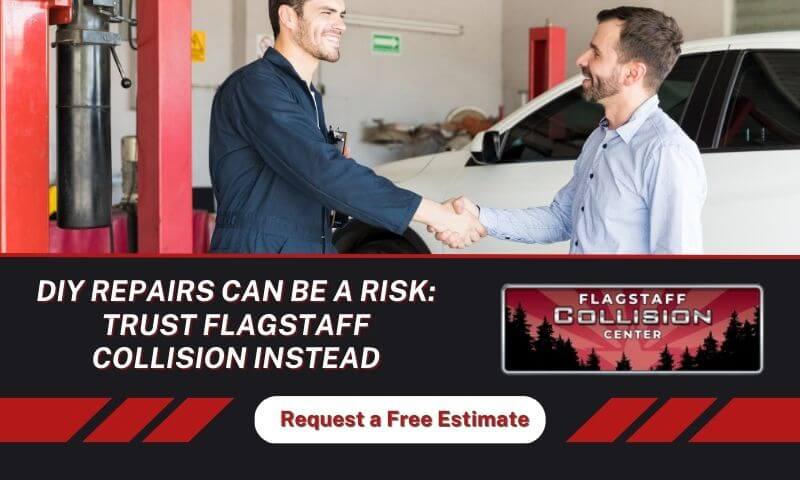 The Best Way To Remove A Dent From Your Truck, SUV, And Any Other Vehicle:
It is important to remember that the DIY methods listed above are usually temporary solutions. In most cases, the best way to remove a dent from your car is to bring your car to a local auto body repair shop. Skilled technicians have the equipment, technology, and expertise to repair your vehicle properly, and restore it to its pre-accident condition. They also use high-quality paint and materials that will match the original color of your car, ensuring that the repair is seamless and looks like new.
Moreover, if the accident is covered by your insurance, the auto body repair shop will work with your insurance company to process the claim and take care of the repairs. This will save you time and money, and ensure that you get the best possible repair for your car.
DIY Car Repairs Can be a Risk: Trust Flagstaff Collision Instead
Are you in need of auto body collision repair services in Northern Arizona? Look no further than Flagstaff Collision Center. Our mission is to provide quality services to our clients, and we have the expertise to back it up. Our team of ASE-certified technicians are equipped to handle all manner of body and paint services, from professional striping to vehicle body repair, and even dent removal and bumper repair. We also offer accessories for trucks, Jeeps, and UTVs, and even RV roof restoration with a lifetime warranty. When you bring your car to Flagstaff Collision, we will ensure to get your vehicle back to its pre-accident condition and make sure you're more than satisfied with the results. Contact us to schedule an appointment today or request a free estimate.